Massage therapists are currently in demand.  Currently (Jan 2022), there are more jobs in massage than there are massage therapists to fill them in many areas of the country. The massage therapy job outlook shows massage therapists are in demand and the profession is growing significantly. There are many avenues and opportunitites in the massage profession.
According to Sandy Fritz, school owner, massage therapist and author of Mosby's Fundamentals of Therapeutic Massage states:
Massage therapy has 2 main categories of practice with six distinct practice settings: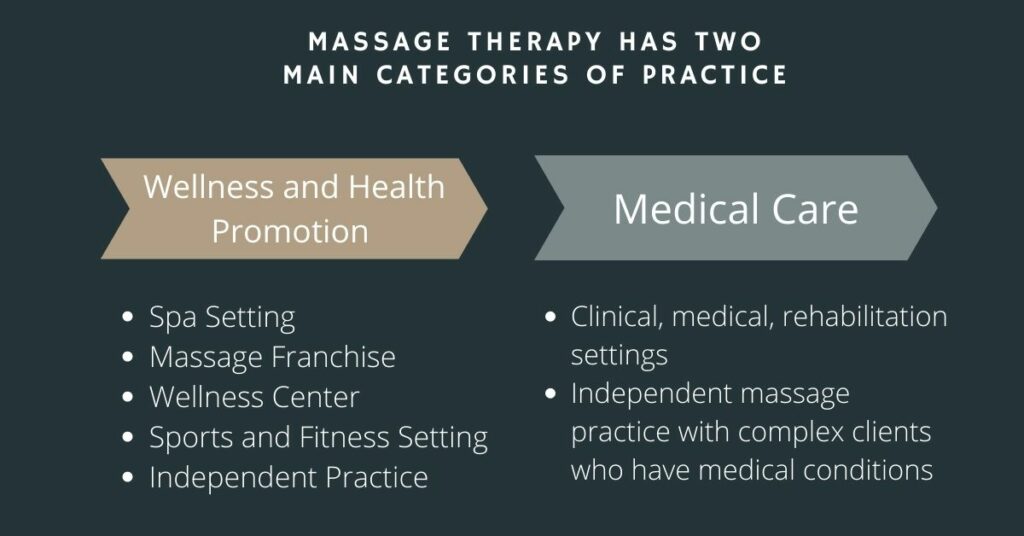 1. Wellness and Health Promotion
>>>Spa setting
>>>Massage franchise/ Wellness center
>>>Sports and fitness setting
>>>Independent massage practice
2. Medical Care
>>>Clinical/medical/rehabilitation settings
>>> Independent massage practice with complex clients who have medical conditions.
Within each practice category and practice setting the following outcomes are addressed:
Wellbeing/relaxation
Stress management
Pain management and Physical function.
The main differences between the two categories of wellness and heath promotion and medical care are complexity of the clients, practice settings, level of interdisciplinary interaction and medical professional over site. Clients are at much more risk in the medical sector due to the fragile nature of the conditions requiring medical intervention. Increased training for massage therapist to work in the medical sector is not about advanced methods but understanding the risks and proper adaptation.
Both the the Wellness/ Health sector and the Medical Massage sector are rapidly growing. Each category can cross over into the other area and are not exculsive.

Wellness and Health Promotion
The wellness and health promotions sector is the largest and most diverse practice category with the most the most autonomy meaning that they can work on their own without medical supervision (which may be required in the medical care category). Even though medical supervision is not required, massage therapist still must understand basic health conditions and know whether or not sessions should be continued or stopped. Often people who receive massage for medical care will transition into wellness/health promotion care to maintain their condition and prevent it from reoccuring.
Spas provide services such as massage, saunas, baths and other hydrotherapy methods. They also may be combined with a salon that provides hair and nail care.
Massage franchises like Green Spa, Elements, Massage Envy provide low cost massage to a high number of people giving massage therapists who start their careers here a chance to get experience by working on many people. These franchises have been hardest hit by the pandemic and decreasing number of massage schools as their investment in starting and building a franchise location is often hundreds of thousands of dollars.
Sports and Fitness centers incoroprate massage into exercise programs. Professional and amateur sports teams rely on massage as an essential part of enhancing performance, reducing injuries and recovering from training and competitions.
Independent massage practice are individuals who own spas and who also give the massage or hire a few people to give the massage. Learn more about massage therapy careers in wellness and health promotion.
Medical Care Massage Therapy
Clinical/medical/rehabilitation settings include individually owned clinics for the purpose of rehabilitation from injuries or health conditions such as pain (back, neck, shoulder, arm, hand, hip, leg, foot pain). The medical care sector is more contained and can be found in more clinical office settings. Medical Care often requires the sessions to be overseen by a medical professional like doctors, chiropractors and others especially in hospital settings. Rehabilitation massage may or may not require oversight depending on the scope of practice in the state you are working. The goal is to improve the clients condition and move into the wellness/health category with maintenance massage therapy.
Most therapists in the medical massage sector start and run their own business which can be very rewarding both financially and emotionally. These types of clinics will work with back/neck pain, computer stress, headaches and injuries/diseases/conditions that massage therapy can help. You can also get a job in a medical massage clinic, but it usually requires more training than basic massage therapy school. There are some schools that will provide more training in this area.
You can also start your own hospital based massage program or get a job in a hospital setting. Massage therapy is being used in headache and pain clinics in hospitals. It is also being used in cancer centers where massage therapy is used to help with the stress of cancer treatments and side effects of treatments like lymphadema and pain from surgeries.
More and more insurance companies are covering massage therapy. In most states, auto insurance companies will pay for massage therapy to help recover from auto accidents. Workers' Compensation/Labor and Industries will also pay for massage therapy to help recover from injuries at work in most states. You will have to check your benefits. If it is not covered, you can also be apart of the movement to make this happen. Learn more about massage therapy careers in a Medical Setting.
Massage therapy has been found to be beneficial for many conditions such as:
Stress, anxiety, depression
Back and neck pain
Headaches
Physical pain of all sorts
Strains/sprains
Recovery from surgeries like joint replacement surgeries, open heart/lung surgeries
The Two Paths
These two categories are unique yet overlap frequently and are combined in various ways. There is not just one path to becoming a massage therapist. I solid foundation in both of these categories will allow you to grow in both categories after you graduate and find your way through your career. The first step is becoming a licensed massage therapist in the state that you want to work. (There are still a few states that do not require licensing, but it is still helpful to attend massage school.)
After you graduate from massage school and achieve your massage license, you have many opportunities in the Job Arena as well as opening your own massage business.