After looking at the first 100 massage schools that I have posted here, I can understand why massage schools are having issues with getting more students.
Think about how people search. They are looking into a career in massage or maybe they have already done some career research but have not picked a school yet. When they find a site that really shows that they know what they are doing, potential students are much easier to convert into paying students.
Your website needs to work—It needs to get your school to show at the top of the search results for keywords like massage school your city/area, get people to click on the listing, give people the information that they are looking for, and get them to take a tour and sign up for school.
A massage school website needs to show that YOUR SCHOOL is the expert at teaching and creating successful massage graduates. Google requires that websites show their expertise which in turn shows that you are the authority on massage education which also builds trustworiness. A website that does this, will be found more easily by Google and other search engines AND will fulfill the readers/potential students anxieties around starting in a career in massage.
Google E-A-T means Expertise, Authoritativeness, and Trustworthiness.
To show that your website is good enought to E-A-T (that you are the expert, that you are the authority and you are trustworthy) you should have the following things:First your domain says a lot about your school. If you use a name like hands healing or use words that are not straight forward – that tell what you are – it may be confusing right from the start. Now community colleges and career training institues cannot do that so then you really need to make sure that people can find the career page that they want very easily. (Many schools websites make it impossible to find.)
You need to make it so the search result that shows up for your school makes people click on the listing. Do a search for your school and see what it says. Does it create interest and make people want to click? This is done through having good metatags on your website. Here is what a search for massage school shows for me: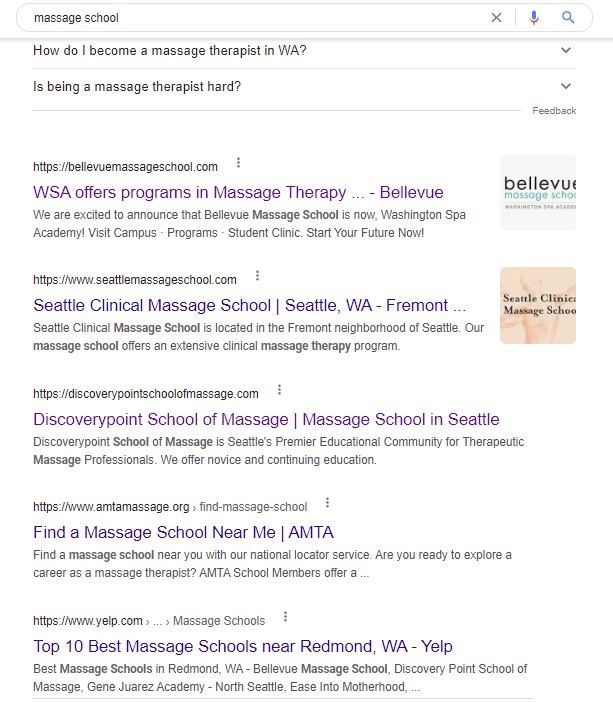 Your Home page is where most people will land when searching online. Your home page needs to have a clear tag like and/or first paragraph that answers the question: What solution do you provide…and then ask so what? In the manner of massage schoools – you provide things like comprehensive training in the skills and knowledge needed to be a successful massage therapist. Keep asking the question over and over until you get to a really compelling answer that will let readers know they are on the right page. Our successful graduates have more fulfilling careers helping others get out of pain or help them feel better. When people feel better they do better in all aspects of life. It also needs to tell readers/potential students – what is in it for them? So many sites start out telling about the school or the owner and everything else but not the reader. The reader won't care much about anything until they get their need for information met first. (Use Google analytics and Google Search Console too to help you see what keywords people are using to find your website.)
Your about page is probably the next most important page that shows expertise, authority and builds trust. Don't be boring! Tell your story with grit and compassion. Even though it is about you/your company, it still needs to answer the question: What solution do you provide and THEN tell about you.
Career information really seems to be lacking on most massage school websites. They give the blah blah blah…BLS statistics for pay, the blah blah blah…it's a career in helping. How is the process of going to massage school life changing? What changes will the student go through just as a result of learning and giving/receiving massage (touch) regularly? What will touch/massage really do to help people? It isn't that boring old list of the benefits of massage.
What do you want readers/potential students to do?
When people land on your website, you don't really know how they got there or what they want. They could already know about careers, pay, jobs and starting a massage business or they may be looking for more career info. They may or may not have heard of your school before so they may or may not be ready to sign up. Do you offer tours or online zoom meetings to let people see the school and ask questions? Then you will want them to sign up right then and there. So your home page will need to lead them where you want them to to. What is your most wanted response?
Use something like this to let readers/potential students choose what info they need.
Don't let a website visitor leave without getting them to sign up for a newsletter or follow you on social media—hopefully both.
Have a lead generation tool such as a free download on career information and some school information to collect people's emial addresses. Follow up with information to get them to come in for a tour or sign up for a free or low cost massage class or a free career evening.
Graduate Support Services
Another thing I have found lacking on massage school websites is support for graduates. Maybe you have that as an inside feature for only students. What I am referring to is a job board and also all the information needed to start a massage business in your city/state. You can create Facebook groups for students to gather and share information for them on the latest job openings. Graduates are your most vaulable resource for getting referrals for your school. A happy, successful graduate is very likely to refer others to your school, making it a win-win situation. You pay less in advertising/marketing/cost of getting a student when graduates refer directly to you.
Why create a listing here?
The other way that the search engines work is by searching the internet for links. Everything in the WWW is about links… That is why Google first called itself ":Backrub"! (Yes Really). They called it this because the program analyzed the web's "back links" to understand how important a website was, and what other sites it related to. The more other websites linked to a website, the more popular it appeared. It is still is true today although Google although it is much more sophisticated.
Most of our Search index is built through the work of software known as crawlers. These automatically visit publicly accessible webpages and follow links on those pages, much like you would if you were browsing content on the web. They go from page to page and store information about what they find on these pages and other publicly-accessible content in Google's Search index. Google: How Search Works
So when you show your expertise and create a listing here and add your website, it will provide one of those important backlinks. This site will eventually include ALL massage schools in the US and will have information constantly updated, which will show Google how this site is the expert, authority and trustworthy resource for all things massage therapy career related.
Sign up for your free website/social media review!